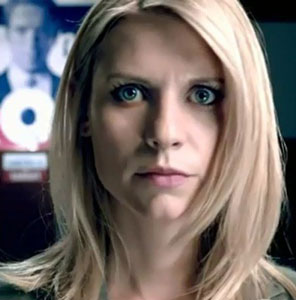 Homeland season premier was on tonight.  After last year's explosive ending this one did not disappoint.  But I'm not doing spoilers so don't worry.
So Carrie is testifying before the Senate Intelligence Committee .  No surprise there.  But I get a phone call and put the DVR on pause.
I noticed something odd. Do you?
So I know that they didn't film the scene on location in the Capitol Building.  The TV folks built a set to shoot in.  So….why did they decorate the Dias with swastikas?  What point were they making?  I am not going into a diatribe about evil Democrats or Republicans.      It's hard to tell who's being shot at.
Why do you think this happened?