Today, March 12th 2012 is the 100th anniversary of the founding of Girl Scouts Of America.
The oldest living Girl Scout is Amelia "Milly" Bowden England. She joined the Girls Scouts in 1914.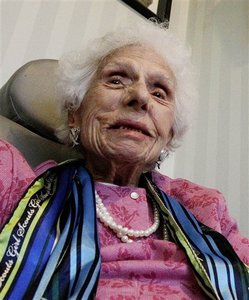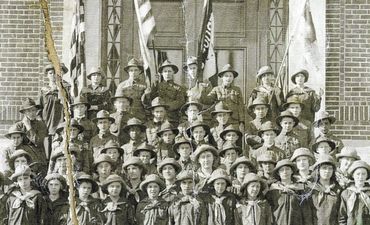 In this 1914 picture, Amelia is far right on the top row. This was a meeting of her Thistle Troop and the Boy Scout Troop in New Bedford, Mass.
She remembers having to sew her own uniform.
The first Badges were:
Baby Nurse, Cook, Seamstress, Gardening, Cycling, Laundress, Musician, Artist, Clerk, Stalker (nature study) and Farmer.
The terminology today has changed to Learning Petals for GS Daisies, GS Try-Its for Brownies, GS Badges for Juniors, and Charms and Interest Project awards for GS Cadettes, Seniors,and Ambassadors (older girls). These Girl Scout awards are expected to be renamed back to "badges" in 2012-2014.