Ohhhhh! Blog….Her. Women who blog. Get it. The BlogHer Sixth Annual Conference kicks off next Thusday. In New York City.  New York City????  Who has conventions ( uh….Conferences) in New York City when you have a perfectly good Las Vegas to party..um… confer in.
It just so happens that another convention, conference..whatever is kicking off next THURSDAY as well.  It wisely chose LAS VEGAS as it's fun destination.
It's THE WORLD'S LARGEST STAR TREK CONVENTION.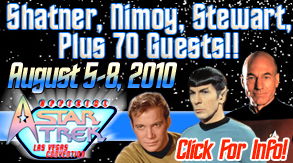 I'm going to try and sneek in Thursday.