Welcome to The Lucky Puppy. I'm an Air Force veteran and eccentric genius who spends his off time blogging from an undisclosed bunker.  I am not a right wing, conservative, conspiracy chasing, gun toting, disgruntled war vet.  But people have described me as such.  Some of my family and friends are Left Wing Loonies whom I tolerate with some level of comfort.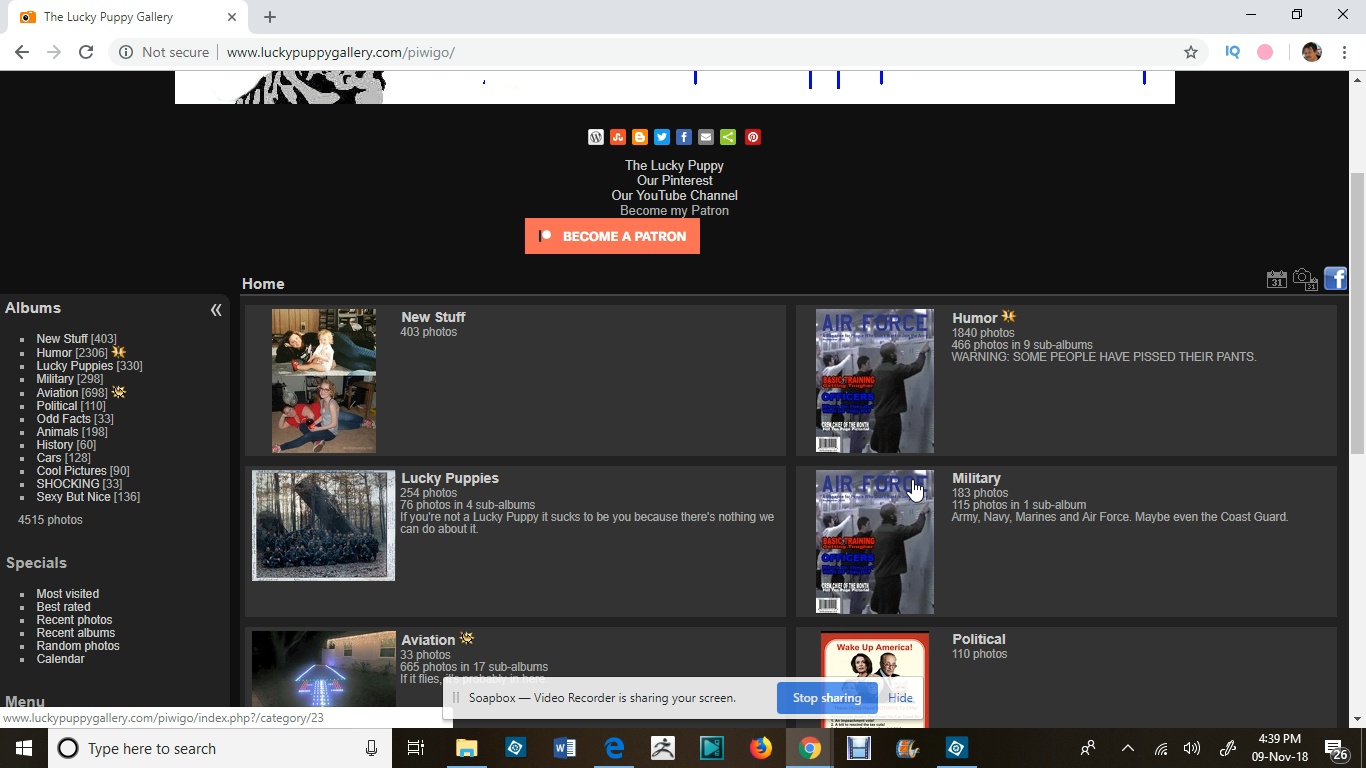 Take a Tour of the Lucky Puppy
IF THAT VIDEO TOTALLY SUCKED WATCH THIS ONE
Better?
Skill Sets
Writing, story telling,marksmanship, computer programming. I can hike, swim, fish and make a world class omelet. I dream in German, am fluent in Castillian Spanish after two beers and can be polite in Japanese, Korean, Italian, Russian, Farsi,Turkish and Ebonics. I attended a Black Ghetto High School and majored in Black Studies in college. I am qualified to be Black wherever I go. Word.
Bragging Rights
Having survived two divorces, I'm now happily married to the Lovely and Talented Mrs. Chamberlain 3.0. The former Miss Minkler of Phoenix, Arizona.
I am my kid's Dad. Two Boys (who happen to be men now) and a Girl . Daughters change your life. There are soooo many rules. I didn't know that the outfit had to match the diaper bag.
I also have a daughter-in-law who is a writer, blogger,extraordinary wife and friend.
I've been on the internet (ARPANET) since 1975 and banging out luckypuppy.net in one form or another since 1998.
You'd think I'd get it right by now?
If you just surfed in and want to reek Havoc and leave, feel free to comment in the blog.
I try to keep the content well below PG-13 so if you're looking for porn, go somewhere else. I tell it like it is  (or how I think it is) so if you're "sensitive" you might consider reading "Parenting" or the ROSIE section.
Share us on facebook.  Subscribe to us. I only spam friends and family. Tell your friends. Above all…Enjoy!
Privacy Policy
Terms and Conditions
Spater Gator,
Walt
PS: Leave a fucking comment so I know what I'm doing right and what I'm screwing up.